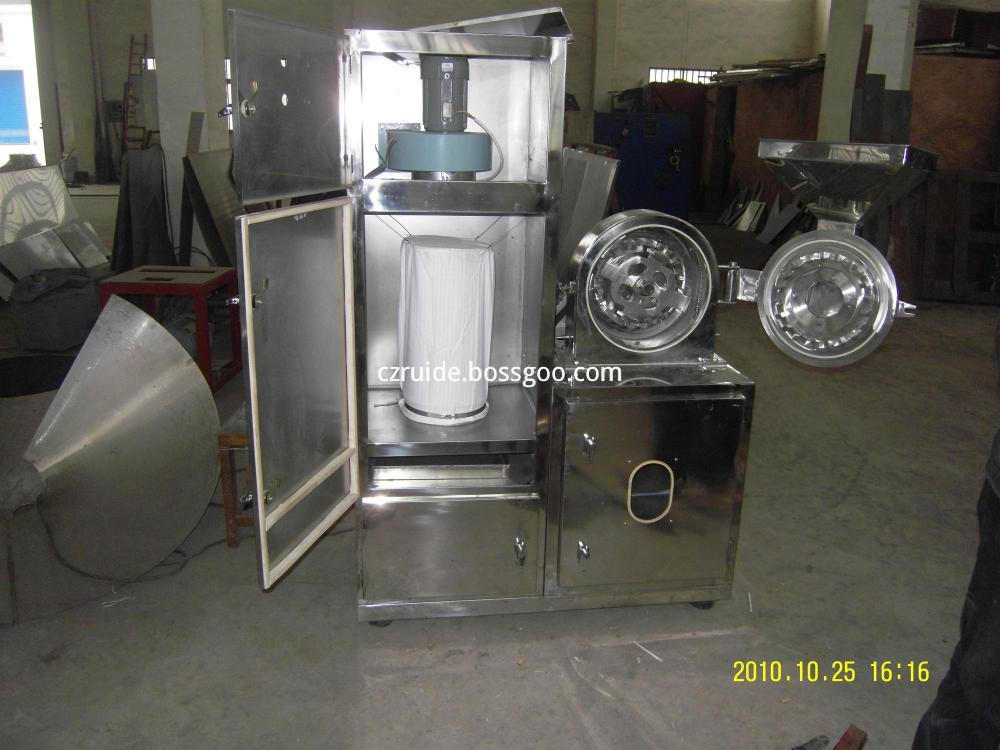 By means of relative motion between movable and fixed fluted discs, material is crushed by impact and friction of the teeth and impact among the materials. The crushed material enters into the catcher automatically under the effect of rotating centrifugal force, and the dust is filtered and recovered by dust collector through a bag. Designed according to"GMP" standard and wholly made of stainless steel, Sesame Grinding Machine has no flying dust during production, and can improve the utilization rate of material and reduce the cost of enterprise, thus reaching the international advanced level.
Description:
High Output Grinding Machine features are simple and solid in structure, stable in operation, high crushed efficiency. The crushed raw material can be dischargedthrough the grinding chamber. Moreover, different size of raw material to be crushed can be got through exchangingscreen with different mesh. Moreover Model 30BV is made from stainless steel. Its inner wall is processed finely, so it is smoothand level. It overcome the shortcomings existed in Model 30B III such as roughness, accumulated powder. It makes the productsof medicines; foodstuff and chemicals and so on are in conformity with the requirements of standard and meet the requirements of GMP.
Working Principle:
This machine uses the relative motion between movable and fixed teeth disc, the raw materials to be crushed undertakes thecomprehensive actions such as impacted by teeth, friction, impacted between raw materials, finally the raw materials are crushed.
Application:
This machine has wide application and is wide used for pharmaceutical industry, chemical industry, pesticide industry foodstuff industry, grain industry, and so on.
Technical Parameter:
| | | | | | |
| --- | --- | --- | --- | --- | --- |
| Spec | unit | 20B | 30B | 40B | 60B |
| productive capacity | kg/h | 60-150 | 100-300 | 160-800 | 500-1500 |
| speed of main shaft | r/min | 4500 | 3800 | 3400 | 2800 |
| feeding granule size | mm | 6 | 10 | 12 | 15 |
| finess of pulverization | mesh | 60-150 | 60-120 | 60-120 | 60-120 |
| grinding motor power | kw | 4 | 5.5 | 11 | 15 |
| fan power | kw | 1.5 | 1.5 | 1.5 | 2.2 |
| weight | kg | 250 | 320 | 550 | 680 |
| overall dimension(L×W×H) | mm | 550×600×1250 | 600×700×1450 | 800×900×1550 | 1000×900×1680 |
| overall dimension (set)(L×W×H) | mm | 1100×600×1650 | 1200×650×1650 | 1350×700×1700 | 1550×1000×1750 |